Happy Feet Make Happy Nurses!
Today's nurse is a shift worker, sometimes up to 3 or 4, 12 hour shifts in a week. In the Operating Room, Orthopedic Office or Hospital Floor, nurses put on the miles every day. Your 'wheels' are your feet and your shoes. Making sure they are the perfect package will get you through those 20,000 steps every day, without discomfort.
See above some examples of comfortable shoes we recommend including shoes from Alegria, Waldlaufer, and Dansko.
Improper footwear can result in foot pain, general fatigue, knee and back pain. There are a few 'pearls' to remember about people who work on their feet all day. The shoe must be supportive, a wide sole and properly fitted, (wide enough and long enough for the intrinsic muscles of the feet to work effortlessly). Depending on your foot type, (flat or high arch), an orthotic might be a welcomed addition to further improve your foot function.
At The Foot Performance Center, we offer 2 ways for you to discover a solution to your foot needs. Our trained staff can be seen on a walk-in basis for shoes, sneakers and over-the-counter (OTC) orthotics. Or, you can schedule an appointment with one of our nationally certified Practitioners for a full evaluation ($35 fee). The Practitioner may recommend a custom orthotic to aid in changing your unique biomechanics, for the better.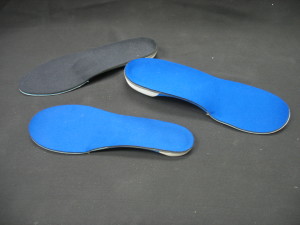 See above an example of foot orthotics.
Be assured that your footwear solution can be very stylish if that's a concern. Our staff can direct you to shoes/inserts/orthotics that will help you achieve the greatest success. Your comfort from the ground up will result in a happy day at work – and a Happy Nurse is a Great Nurse!