Athletes
Our ABC Board Certified Pedorthists and Orthotists perform regular foot function analysis, gait analysis and footwear analysis to optimize the foot performance of athletes at all levels. We specialize in a variety of sports such as running, tennis, dance, basketball, track and field, skiing, cycling, skating, soccer, and golf. We work with the area's best sports medicine professionals and have a Certified Athletic Trainer on staff, to better understand the problems and challenges of each sport, and find the best course of treatment. Whether we're working with weekend warriors or Olympic athletes, our experts are committed to the best possible foot orthosis design. Our experiences includes working at the 2004 Athens Olympics, LPGA Golfers, Professional and Olympic athletes.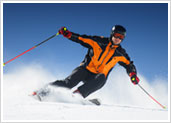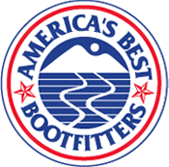 SKIERS When your ski boots fit properly you'll not only feel better, you'll perform better. You'll be able to set an edge better and have a better feel for your skis and the snow.
The Foot Performance Center has the experience and know-how to help you achieve the perfect fit  We are member to "Americas Best Bootfitters" with over 75 years of combined experience fitting ski boots and providing custom ski orthoitcs. In fact, we have a long history of fitting and aligning notable local and national ski competitors. We are the only Western New York location with Board Certified Pedorthists, PSIA level ski instructors and race coaches in one store.
We offer custom boot warmers to keep your feet nice and toasty on the slopes. Our Hottronic Ski Boot Warmers are in stock now and make a big difference when skiing in the cold.
Ski Boot Fitting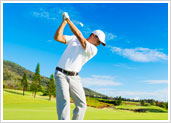 GOLFERS Getting the most out of your golf game starts with a solid foundation. Poor foot function affects your balance, increases your chances for injury and—gulp—hurts your score. Our staff can evaluate your foot function and shoe fit. We can suggest proper shoes and insoles to improve your foot function and stabilize your foundation for a more consistent swing.
With proper fitting footwear and custom orthotics, you'll find that you'll be more balanced on your feet, be less tired, and be able to golf more.
Our store also carries a full line of New Balance golf shoes in hard-to-find widths.
Golf Swing Improvement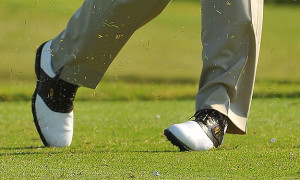 One of the most difficult athletic moves to execute is the golf swing. Balance is crucial. Optimum weight transfer from back to front foot can maximize power and distance, not to mention lower your score! Ground reaction forces should be as high as possible, and a properly designed foot orthosis can help do just that. Newton's 3rd Law states, "For every action, there is an equal & opposite reaction". The more force you can generate at the ground, the more torque can be imparted to the ball.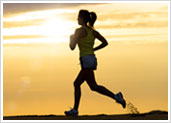 RUNNERS Overuse injuries often arise in runners due to biomechanical imbalances of the foot and lower extremities. Properly designed foot orthoses are a means of aligning an improperly balanced foot by controlling the subtalar joint. Injuries such as plantar fasciitis, shin splints, metatarsalgia and patellofemoral syndrome are all related to poor biomechanics. Our experienced staff can evaluate the runner to determine how to reduce soft tissue overload and pain.
"Enduring High Miles"
Running a Marathon takes commitment on many levels. Long hours of training, mile after mile. Beyond the physical and mental aspect of the sport of running, is finding the right running shoe. For Marathoners this can be crucial. Size and width must be perfect, but so must the design of the running shoe. So what brands and models stack up to the rigorous demands of this brutal sport? At the Foot Performance Center we offer four of the most highly rated:
New Balance 880 V7
New Balance 1080 V7
Brooks Adrenalin GTS I7
Brooks Ghost 5
Good construction, shock absorbing soles and durability can be found in all of these shoes.