Orthotics
Every foot is different. But the shoes we wear are usually mass-produced. This inhibits our ability to make precise movements and increases the amount of stress placed on our feet. Your body is an adaptive mechanism with a support system – if it can't do what you ask it, it will find a way to compensate. Every adaption, however, comes with a price. Other parts of your body, like your knees, back, or hips, are forced to compensate. This causes misalignment, which leads to pain, discomfort, and ultimately poorer performance. Ouch. Fortunately, there are orthotics. Custom made orthotics are medical devices that support and gently re-position the heel, arch, muscles, ligaments, tendons and bones in the feet, enabling these structures to work together as nature intended. Custom foot orthotics can help you feel better.  They allow your body to perform as nature intended. Custom foot orthotics can reduce the risk of injury, alleviate soreness, and enhance performance – helping your feet stay comfortable all day and helping athletes and just about anyone, perform at their best.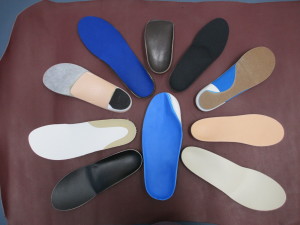 Custom Orthotics
Custom made orthotics are designed for the individual who either has a difficult foot shape, foot type, or biomechanical problems that cannot be helped with an over-the-counter orthotic. The Practitioner performs a full evaluation and obtains measurements and cast/foam impressions to make the orthotics. Designs are based on many variables including: activity level, shoe type, biomechanical concerns and vocation.
Sporty Active:
Shoe – Sneaker or Oxford
For Who – Athletic, Walker, Teachers, Construction Workers, Restaurant Workers
Make Up – Semi-Flexible (polyethylene shell) or Semi-Rigid (polypropylene shell), EVA top covers, Poron Cushioning & Extrinsic Rearfoot Posts
Accommodating/Cushioning:
Shoe – Sneaker/Oxford
For Who – Active People with Arthritis or Need for Enhanced Shock Absorption
Make-Up – EVA, Cork or Polyethylene shell, Poron Lining to the toes, Intrinsic Rearfoot posts, Plastazote top covers
Over-The-Counter Orthotics
Over-The-Counter or Pre-Fabricated Orthotics are able to support the arch and provide some heel alignment improvement. There are many styles that have been designed for specific problems such as forefoot imbalances and plantar fasciitis. Being fit by a trained professional is important and will yield the best results.
In-Stock Everyday: SOLE, Powerstep, Aetrex, Vasyli & Dannberg, KNEED, Cadence, Redi-Thotics, Spenco Rx, & UCBL for Pediatric Patients.